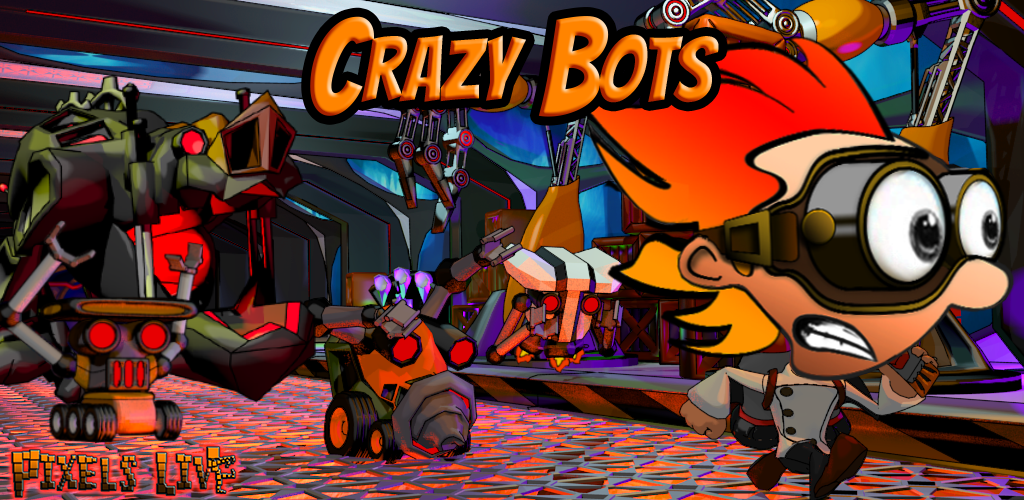 Crazy Bots
A downloadable game for Android
The Bots gone Crazy , discover creative ways to submit them to your will.
Crazy bots is a different kind of game experience, you can dodge the bots , jump over the the bots and sometimes use the bots to reach the end of the levels with success and achieve the best results
This is the tale of a creative yet wacky scientist, Gordon Bloom.
Gordon had an idea but his idea went wrong, now he has all kind of troubles to dodge from!.
"-There is some kind of malfunction the bots seem different !
-OMG they have gone crazy and will achieve caos!!
-Oh no Pixie is awake! And malfunctioning too!!
- I must submit them!"
Gordon bloom's goal is to repair all the malfunction on his inventions, for that he must reach the main terminal with success ! Otherwise , all is lost!
Will you help the wacky scientist achieve his objective with success ?
How to win the crazy bots:
• jump higher by bouncing off the bots , sometimes its all it takes
• achieve higher score by picking cogs and nuts,
• picking cogs value is 10 coins
• picking nuts value is 5 coins ,
• picking coins value obviously is one coin :)
• Sometimes you have to reach higher speed to jump higher over the platforms, achieve this by landing on top of the bots and they will move faster and will help you reach farther.
• Dodge & avoid the malfunctioning bots , it sometimes works too :D
• Unlock 20 different scenarios
Crazy bots Features
• many different kinds of malfunctioning crazy bots
• different and creative ways to reach your goal
• 6 different areas, 20 different scenarios , over 100 levels!
• online leaderboad , get higher score and submit your results!
• Play as Gordon Bloom , the wacky & sometimes creative ,scientist ;)
Try it, best case scenario you have some fun! Worst case scenario , some crazy bots will run around in your device :D
Here's some reviews :
"-I love the creative scientist! Great idea 5/5!!" – Gordon bloom , scientist (biased, yeah we know..)
"-bleep beep dodge " -- Pixie , the giant bot
"-why bots is bad guy, bleep beep? This is bad idea" 1/5 -- Fred, the box bot
"- innovative idea , my kind sir , bleep beep 5/5" -- Ned, the office bot
"- submit to my six legs, bleeeep, you can't dodge them" -- Annie, the Spider bot
"- scientist is picking on bots, bleep , me no like 1/5" -- Anonymous bot
"- you can't submit me to your will, bleeeep!" --Zed, the drill bot

Help us improve submit YOUR review , we value your opinion;)
Having trouble with our game? reach out , send us an email!
The Pixels Live Team
Also available on